1 thru 10 of 6902 Stories
Mike Lindell, the millionaire entrepreneur known for his television commercials promoting his pillows and bedding products, made an unexpected appearance at the White House yesterday but there may be a political reason behind it.
Not only can't members of Boston Sports Club work out, but they will continue to pay for the privilege of not doing so.
Amazon fired a worker who organized a walkout at a New York warehouse to demand greater protection against the new coronavirus, saying the employee himself flouted distancing rules and put others at risk.
The coronavirus crisis has exposed a surprising paradox: Some of the world's best health systems are remarkably ill-equipped to handle a pandemic.
Following are developments on Monday related to the global economy, the work place and the spread of the virus.
Brazil's churches have landed on the front lines of a battle between state governors, who have introduced quarantine measures, and President Jair Bolsonaro, who is actively undermining them.
A nurse with asthma, a grandfather with cancer and a homeless man with no known family are wracked with coronavirus-induced fevers. Which one benefits from the hospital's limited resources?
Some Instacart and Amazon warehouse workers walked off the job Monday demanding greater safeguards against the coronavirus.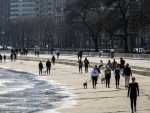 All over the United States, mayors and other officials fed up with residents who ignore social distancing guidelines have been shutting down parks, beaches, marinas and other public areas.
Twelve days ago, General Motors put hundreds of workers on an urgent project to build breathing machines as hospitals and governors pleaded for more in response to the coronavirus pandemic.
1 thru 10 of 6902 Stories