1 thru 10 of 6346 Stories
A group of Google employees have released an open petition to the Board of Directors of San Francisco Pride to remove the company from the parade over allegations of poor corporate culture around LGBTQ issues.
In a tweet Tuesday, Netflix said it was "sad" that NBC was taking back the show but added it will still be on Netflix for the next year and a half.
Australia's three largest media organizations joined forces on Wednesday to demand legal reforms that would prevent journalists from risking imprisonment for doing their jobs.
A new federally led study of oil seeping from a platform toppled off Louisiana's coast 14½ years ago found releases lower than other recent estimates, but contradicts the well owner's assertions about the amount and source of oil.
A conservative American cardinal distanced himself Tuesday from former White House adviser Steve Bannon and severed ties with a Bannon-linked institute that wants to train future populist leaders in Europe.
Months after workers who play characters at Walt Disney World threatened to leave the Teamsters union, General President James Hoffa appointed two associates Monday to take over the local union.
Territory offer fully cooked meals from local chefs, prepared with insights from nutritionists to ensure what you're getting out of your meal is as bountiful as what's on the plate.
The record number of climbers crowding the world's highest mountain this season has left a government cleanup crew grappling with how to clear away everything from abandoned tents to human waste that threatens drinking water.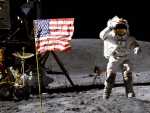 Hundreds of millions of people were riveted when Apollo 11 landed on the moon on July 20, 1969. Naturally, marketers jumped at the chance to sell products from cars and televisions, to cereal and a once-obscure powdered drink called Tang.
H&M is set to kick off a series of workshops and training this fall for thousands of its employees at its more than 500 North American stores aimed at addressing unconscious bias.
1 thru 10 of 6346 Stories