Top Story
In a story that broke on the New York Post on Saturday, someone has deposited piles of feces at two audition spaces over the past two weeks.
Michal Aviad's second feature drama, the finely nuanced "Working Woman" is an Israeli take on the #MeToo movement that clearly re-affirms the complexity of workplace harassment and that no two cases are ever the same.
The timeless 2002 Todd Haynes-directed melodrama "Far from Heaven" is available on Blu-ray from Kino Lorber with a release filled with special features.
The Tom Cruise-starring 1983 sex comedy "Losin' It" is now available on Blu-ray from Kino Lorber and their Studio Classics label. Your mileage with the film may vary.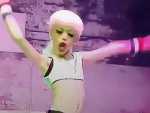 Original Drag Kid Desmond is Amazing is only 11 years old, but that has hardly shielded him from the online taunts and slurs of right-wing trolls who sandwich expressions of concern for his well-being between frequent attacks on him and his family.
The exhibit titled, "Gender Bending Fashion," examines moments in history when clothing transcended and muddled our understanding of gender.