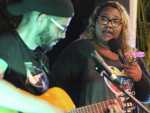 Reymar Perdomo combines her street performances with appearances at concerts and on TV programs, and her song has become the unofficial anthem of Venezuelans who have fled their country's economic implosion.
Alicia Keys usually attends the Grammys, but this year she'll be there as a host.
Missy Elliott is making history as the first female rapper inducted into the Songwriters Hall of Fame, whose 2019 class also includes legendary British singer Cat Stevens and country-folk icon John Prine.
The late Aretha Franklin's songs were so impactful that some of music's bests from Alicia Keys to Celine Dion took the stage Sunday to relive the Queen of Soul's biggest hits in a taped tribute concert.
Out pop singer Troye Sivan has released a new music video from his 2018 album "Bloom."
Rising Latin trap artist Kevin Fret was shot dead in Santurce, San Juan, Puerto Rico Thursday morning. He was 24.
Gay porn star turned singer Allen King is releasing another music video this week.
The 2019 Bonnaroo Music and Arts Festival will feature Childish Gambino, Post Malone, Cardi B, the Lumineers and multiple sets from Phish.
The trappings of success continue to arrive for K-pop sensation BTS, the latest a contract with the toy company Mattel which secured rights to produce dolls of the boy band.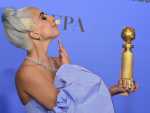 "A Star Is Born" walked into Sunday's Globes as a favorite with five nominations, but only ended up winning one award: Best original song for "Shallow," co-written by Lady Gaga.