1 thru 10 of 4360 Stories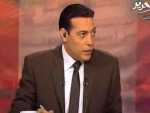 An Egyptian court has sentenced a TV presenter to a year in prison for interviewing a gay sex worker on his show.
Sunday night's game between the New England Patriots and Kansas City Chiefs was the second-most watched and rated AFC championship game in 42 years.
Wendy Williams is taking an extended break from her TV talk show to deal with health issues related to her immune system disorder, her family said Friday.
"High Maintenance" returns for its third season on HBO Sunday and it's a reminder that not all TV shows have to be dark and cynical in this overpopulated television landscape.
Entering its fifth season Friday, Netflix's (probably) popular comedy "Grace and Frankie" is showing no signs of stopping.
"The Elite Daily Show"'s Zach Noe Towers now hosts "Out on Stage," a series streaming Dekkoo that gives LGBTQ comics a space all their own. Prepare to clutch yer pearls! Towers tells EDGE all about it.
A Florida-based company featured on the television show "Project Runway All Stars" is kicking off a new line of leather accessories as part of an effort to help survivors of human trafficking.
Steve Carell is starring in a new workplace comedy that could be out of this world.
Kirsten Gillibrand is hitting the television daily double this week. The New York senator announced her presidential candidacy on Stephen Colbert's "Late Show," following it up with an MSNBC interview Wednesday with Rachel Maddow.
As the fifth-season adventures of "Grace and Frankie " begin, viewers can rest assured there's more to come.
1 thru 10 of 4360 Stories