Watch: For the 1st Time, Disney Channel Airs Character Saying 'I'm Gay'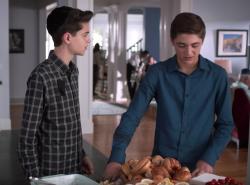 The Disney Channel made huge strides with its LGBTQ representation this week when for the first time in the network's history it featured a character coming out and actually saying the word "gay."

Back in 2017, it was reported that the popular show "And Mack" would feature a character who is gay. Cyrus Goodman (Joshua Rush) came out as gay last year but never used the words "I'm gay" but that changed last week.

The teen came out during his grandmother's mourning service while speaking to a new acquaintance Jonah Beck.

"That's your classic bagel and lox, that's gefilte fish — skip that — and I'm gay," Cyrus says.

"Yeah? OK, cool," Jonah responds with a smile, then grabbing a bite of gefilte fish. "Ugh! This is awful."

"Dude, I told you to skip the gefilte fish," Cyrus says.

As the Digital Spy notes, Cyrus came out to his friends Andi and Buffy but didn't tell Jonah because he has a crush on him.

After the episode aired, Rush took to Twitter to comment on the important scene.

"Every day is a blessing working on this show. This milestone is just another stitch in a rich and vibrant tapestry that is Cyrus Goodman," he wrote.





Later, he also responded to homophobic haters who took issue with the moment.





Watch the scene below.
Comments on Facebook