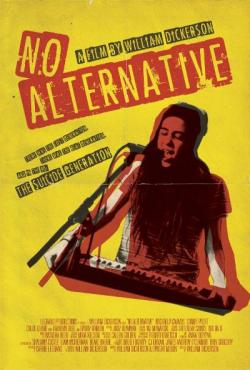 Flashback to the '90s with NO ALTERNATIVE, starring Harry Hamlin (TVs "Law & Order," "Mad Men"), Kathryn Erbe ("Law & Order," "Oz"), up-and-comers Michaela Cavazos and Conor Proft, Chloe Levine (TVs "The Defenders"), and Aria Shahghasemi (TVs "Legacies"). Directed by William Dickerson and based on his book of the same name, NO ALTERNATIVE is a teen drama that drills a hole into the world of suburban American teenagers in the early '90s and is set against a backdrop steeped in grunge and punk rock music. NO ALTERNATIVE is Dickerson's fourth feature film, the others being Detour, The Mirror and Don't Look Back.

Set for release on demand, including iTunes and Amazon Prime Video, and Blu-ray & DVD on April 2 by Gravitas Ventures, a Red Arrow Studios company, NO ALTERNATIVE addresses important issues of mental health, suicide, drug use, gun control and the powerful impact music can have on the human spirit. With a screenplay by Dickerson and Dwight Moody, the film was produced by Carrie LeGrand, and also stars Matthew Van Oss, Eli Bridges and Logan Georges. The movie's award-winning soundtrack has been selected by Record Store Day as a featured title and will be released on vinyl April 13 by Rhyme & Reason Records. Featured artists include Latterday Saints, Mudhoney, Lisa Loeb, The Pork Guys, Superdrag, Low Flying Jets, and others.

Enter to win.

Thanks for visiting EDGE!
Enter this contest
If you already have an account with EDGE, all you need to do is log in; we'll pull your address information from your account and simply ask you to verify it. If you do not yet have an account with us, register now! It's easy and free, and you'll never have to type in your personal information again. If you prefer to enter this information manually, you can use the manual entry link below.
Register
Manual Entry
Click here for contest rules.
* Please be aware that creating multiple accounts for the same person will disqualify you.