Gay Cleveland: The Latest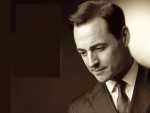 Tony nominated actor Max Von Essen feels a strong attachment to the songs from the Great American Songbook & classic Hollywood musicals, and has channeled it into his first CD, "Call Me Old Fashioned." EDGE spoke to Von Essen about his CD & his career.
The owner of a Kentucky barbeque food truck got more heat than he bargained for when he began selling T-shirts with the message "I support LGBTQ: Liberty, Guns, Bible, Trump, BBQ."
Over 350 Sister's of Perpetual Indulgence from around the world came out to San Francisco on Easter Sunday to celebrate their 40th anniversary. The Hunky Jesus' and Foxy Mary's also came out to celebrate on this festive day,
American Repertory Theater (A.R.T.), under the leadership of Terrie and Bradley Bloom Artistic Director Diane Paulus and Executive Producer Diane Borger, is pleased to announce its 2019/20 Season programming.
Emerson Colonial Theatre announces an evening of conversation with Christopher Markus and Stephen McFeely, the top screenwriting team behind the final two "Avengers" films and the "Captain America" franchise.
Hospitals and patients have sued to block a new nationwide liver transplant policy that they say will waste viable livers, lead to fewer transplants and likely cause deaths.
President Donald Trump said Wednesday he'll go directly to the U.S. Supreme Court "if the partisan Dems" ever try to impeach him.
Mayor Pete has not been coy about the fact that he is gay, and he has been equally forthright about his status as a happily married man. But just who is his husband, Chasten Buttigieg?
Olympic figure skater Adam Rippon is launching his own YouTube channel where he promises fans a personal look into his life, off and on the ice rink.
An unbeatable edge bestowed by early voting and a campaign that avoided going negative were hallmarks in openly lesbian candidate Jane Castor's landslide victory in her run for mayor of Tampa, Florida.

Mourners wearing colorful Harry Potter scarves and Marvel superhero shirts were joined by the leaders of Britain and Ireland Wednesday at the funeral of Lyra McKee, the journalist shot dead during rioting in Northern Ireland last week.

The final chapter in the "Avengers" story (as we know it) is inventive, surprising, sometimes confusing, but always emotionally satisfying. These are the characters we know and love, and the Russo Brothers have done them justice.
An armed group that has been patrolling the U.S.-Mexico border left its post in the New Mexico desert Tuesday amid pressure from law enforcement following videos that showed militia members stopping migrants who had illegally crossed into the country.
Eyeing that can of soda in the supermarket cooler? Or maybe you're craving a pint of ice cream? A camera could be watching you. But it's not there to see if you're stealing. These cameras want to get to know you and what you're buying.
Don't let any of these myths prevent you from making the most of available travel rewards.
Tesla CEO Elon Musk expects to start converting the company's electric cars into fully self-driving vehicles next year as part of an audacious plan to create a network of robotic taxis to compete against Uber and other ride-hailing services.
Tattoo'd America celebrates the artistic, provocative and expressive qualities — as well as the sex appeal — of tattoo and body art.
As the old saying goes, the only things certain in life are death and taxes. While death is inevitable, the quality of life you experience until death is often within an individual's control.
The longest-running gay pool party in Las Vegas — Temptation Sundays at Luxor Hotel and Casino — returns for its 10th sizzling season each Sunday beginning May 12 through September 1.
Kristen Porter Presents Dyke Night® hosts LUSH: the official Womxn Pride Party, the longest running most award-winning womxn pride party in the city. LUSH takes place on June 8, 9 pm to 2 am at ICON Nightclub, 100 Warrenton St., Boston, MA.