Top Story
Adam Levine is leaving NBC's "The Voice" after 16 seasons.
Moviegoers voted with their dollars and chose the familiar over the new this Memorial Day weekend.
Returning for its second season on Starz Sunday (or you can binge the entire season via the network's app on Friday), "Vida" is more confident, proud and thrilling than its excellent freshman effort.
Elle Fanning, the youngest juror ever at the Cannes Film Festival, said she's been transformed by her experience at the French festival.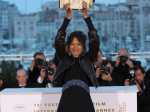 South Korean director Bong Joon-ho's raucous social satire "Parasite," about a poor family of hustlers who find jobs with a wealthy family, won the Cannes Film Festival's top award, the Palme d'Or, on Saturday.
Before Instagram and Facebook, before selfies and filters that perfect selfies, there was Andy Warhol, using his art to imbue friends, family, celebrities — even himself — with a certain mystique.