For kicks and giggles, head to pastoral Chautauqua County to discover the Chautauqua Institution and Jamestown's National Comedy Center.
The average American would happily add six and a half hours onto their traveling time if it meant they could avoid the airport and road trip to their destination instead, according to new research.
Can you have too much of a good thing? Not when you're in Palm Springs. EDGE scoped out some of our favorite locales in the Coachella Valley.
The famous winged TWA terminal at New York's John F. Kennedy Airport came out of its decades-long retirement Wednesday with a new life as a luxury hotel.
A new museum opening at the Statue of Liberty is giving visitors another opportunity to explore its history and the impact the iconic structure has had on the world.
AirHelp has announced the results of its annual AirHelp Score, which rates global airlines and airports.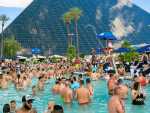 Las Vegas is rolling out the rainbow carpet this year with signature events, including the tenth anniversary of Temptation Sundays at Luxor, as well as Pride, Dining Out For Life, and Bigger Vegas.
On the morning of August 15, 2019 VACAYA's guests will disembark the Celebrity Summit and deliver to Provincetown its carnival flag and the Sea to Sea Rainbow Flag sections.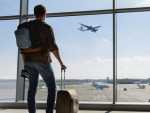 Have you booked your summer vacation yet? If not, WalletHub's recently released report offers insights regarding the best airlines — not just on price — but also many other aspects of the air travel experience.
Christopher Street West (CSW), the nonprofit that produces the annual LA Pride Festival and Parade, will once again collaborate with Universal Studios Hollywood to host PRIDE IS UNIVERSAL on Saturday, June 1 as one of LA Pride's kick-off events.