Many visitors to Sedona come looking for something in addition to its beauty. Native American legend recounts a spot where the earth's energy is supposedly concentrated and crackling. The vortex.
YouTube travel vlogger Logan Ly and his boyfriend head to India for an adventure of a lifetime.
The Japan National Tourism Organization announced that more than 30 million overseas travelers visited Japan in 2018, an all-time record.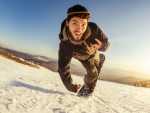 New York State has the most resorts officially signed up for January 11 with 11 locations but resorts in 21 other states also have registered.
Route 66 has been named as the most Instagram-worthy road trip in the world, according to Brits.
As the rest of America winds down from the parties, overeating and merriment of Christmas and New Year's, New Orleans keeps the party going. Mardi Gras season officially kicked off Sunday
EDGE's four must-sail recommendations for 2019 continue with Adventure Canada, which specializes in thrilling voyages deep into the Arctic and beyond.
The romance of cruising reaches lofty new heights aboard a modern clipper ship. From the moment the sails and jibs fill with wind, sending the vessel gliding across the sea, serenity emerges.
Fitness Together's Derek Maxfield offers five tips on how to burn calories outside this winter, and EDGE chimes in with some of our favorite East Coast destinations to do it!
Dutch DJ and travel vlogger Martijn heads to Singapore to discover the best clubs and lounges catering to the LGBTQ crowd.