Top Story
Joshua Lyon didn't think he'd get to work with Edie Windsor in writing her biography, but he got the gig and worked on it with the LGBTQ icon before her death. EDGE caugh...
1 thru 10 of 51345 Stories
A new documentary premiering Sunday at the Sundance Film Festival has, with the aid of advanced digital technology, gone to greater lengths to preserve the secrecy of its sources while still conveying their humanity.
It's been more than three years since Russia's sweeping and systematic effort to interfere in U.S. elections through disinformation on social media, stolen campaign emails and attacks on voting systems.
With Brexit just days away, Britons are fighting over the chimes of Big Ben. And the White Cliffs of Dover are a battleground.
U.S. troops at military outposts ín eastern Syria asked variations of the same question to their top commander Saturday: What is our future here? What are the goals we need to think about?
"Sesame Street" in the past year has tackled everything from foster care to substance abuse. Now its latest effort is trying to help children suffering as a result of the Syrian civil war.
Former California Rep. Fortney "Pete" Stark Jr., an influential Democrat whose legislative work helped reshape America's health care system, has died. He was 88.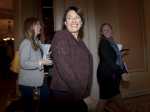 The impeachment trial that got underway this week is happening at an inopportune time for all four of the senators in the Democratic primary.
As tensions between Democratic presidential candidates Bernie Sanders and Elizabeth Warren rose earlier this month, Sanders found himself with an unusual ally: President Donald Trump.
Harvey Weinstein trundled into court this week for the start of a New York City rape trial, facing the prospect of a conviction that could put him in prison for the rest of his life.
A Vatican cardinal at the center of a storm over a book about celibacy and the Catholic priesthood is denouncing the "brutality" of criticism directed at him and his collaborator, Emeritus Pope Benedict XVI.
1 thru 10 of 51345 Stories