South Florida Gay News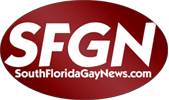 The South Florida Gay News.com celebrates the lives of South Floridians with daily news briefs and storied features, breaking news and lifestyle profiles. Check out their website at southfloridagaynews.com.
Russia will allow rainbow flags to be displayed during the 2018 FIFA World Cup despite a anti-gay propaganda law that makes the display of these symbols in public illegal.
With his clothes folded neatly into a pile and student I.D. left out along with other miscellaneous items, young gay teen Scott Johnson fell to his death from a cliff in Sydney, Australia. The year was 1988.
A trial is currently underway for two British Royal Marine corporals who are accused of administering hazing punishments that included being whipped and forced to strip and masturbate to gay pornography.
Is God a man? Or a woman? Or neither? Or both? Humans may never truly know the answer to that. But the Church of Sweden recently decided their God is going gender-neutral.
Violet Palmer, the first female referee in NBA history, will be awarded for her contributions as being an out women of color.
MSNBC Anchor Joy Reid publically apologized Monday after a Twitter user found homophobic remarks on her blog.
"[T]he impact of such a decision wouldn't be limited to LGBT people; it could be used to allow discrimination against people of color, women, minority faiths, people with disabilities, and others."
A former University of Oklahoma professor was awarded over $1 million in damages after a jury found she was discriminated against for being transgender.
The country of Sri Lanka is making a progressive and monumental shift as they work to revise their laws to protect LGBT people.
A documentary film project illustrates the challenges and expression of being a black bisexual man in the United States.
The popular gay dating app will be teaming up with global free speech organization Article 19 to set safety precautions that will hopefully protect LGBT people living in the Middle East or Africa.
For those looking for something that is LGBT friendly, HBO's upcoming docu-series "15: A Quinceañera Story" is worthy of making space on your DVR.
Being too short can affect what rollercoasters you get on at amusement parks. But who would have thought it might cost you your job too. This is the case for a transgender officer in India.
English soccer and rugby teams took to the pitch with multi-color laces to support the fight against homophobia.
While some may be bundling up in layers this holiday season, The Warwick Rowers are stripping down and baring it all for their calendar shoot, a project they started to combat gender bias in sports.
Talleen Abu Hanna, the reigning Miss Trans Israel and runner-up in the 2016 Miss Trans Star Internacional beauty pageant, visited Miami last week, speaking at several college campuses and other venues.
Late last week a Navy EA-18G Growler jet made the sky their canvas and sketched a cartoon stretching over the Okanogan Highlands in Washington state. However, the final product was not exactly a work of art.
This year, the HRC tallied "a record-breaking 609 businesses" as scoring perfect scores. That's up from 517 last year.
Liz Johnson's bowling win on last Saturday wasn't just another victory for her. The lesbian bowler won the Professional Bowling Association's Chameleon Championship, becoming only the second woman to do so.
Tuesday the Federal Communications Commission announced a plan to repeal net neutrality, an Obama-era policy that prohibits companies and internet providers from charging more for access to some sites while blocking others.