Top Story
"Euphoria" actor Jacob Elordi is the latest celeb to appear in a Calvin Klein underwear ad.
Chef Mario Batali, whose career crumbled amid sexual misconduct allegations, no longer owns a stake in Eataly, the Italian marketplaces he once heavily promoted.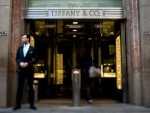 Tiffany & Co. is launching its first comprehensive jewelry collection for men in October as it seeks to diversify its traditional customer base.
Tapestry Inc.'s shares lost nearly a quarter of their value Thursday after the upscale handbag and fashion company said that it would have an unexpected drop in profit and revenue in the current quarter.
Over the past 100 years, visual artists probably deserve the most credit for thrift shopping's place in the cultural milieu.
NARS Cosmetics have made a marketing strategy from suggestive names for their products, but for some a suggestive new lipstick ad might have gone a bit too far.