1 thru 10 of 8724 Stories
Two months after a wooden statue of Melania Trump was destroyed by arsonists near her hometown in Slovenia, it's been resurrected, this time in bronze.
RuPaul broke an Emmy's record with his fifth consecutive win for Outstanding Host in a Reality Competition Series. In his thank you speech, Ru gets political and dedicates the award to the late Chi Chi DuVane.
In a new interview with Men's Health, actor Dyllón Burnside, who plays Ricky on the hit series "Pose," opened up about his sexuality and accepting himself.
A few days after he accidentally shared an X-rated photo saved to his camera roll on his Instagram Stories, actor Chris Evans is finally responding to the blunder — but with a poignant message.
Rapper Lil Nas X and designer Christian Cowan have unveiled their upcoming Spring 2021 line, which will feature Gus Kenworthy as a model.
Jason Momoa broke down in the desert yesterday, which gave him a moment to introduce his "boyfriend" to the world.
Shia LaBeouf is trending on social media Friday for his "method"-styled performance as a stoner in the streamed table reading of "Fast Times at Ridgemont High."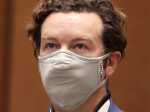 "That '70s Show" actor Danny Masterson, charged with raping three women, made his first appearance Friday in a Los Angeles courtroom, where his attorney declared his innocence and denounced the charges against him as "politicized."
Former One Direction member turned film star Harry Styles is in talks to star as the gay titular character in Amazon Studios' as-yet-untitled adaptation of the novel "My Policeman."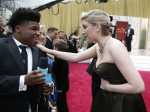 Jerry Harris, the star of the Netflix documentary series "Cheer," was arrested Thursday on felony charges of production of child pornography.
1 thru 10 of 8724 Stories