Top Story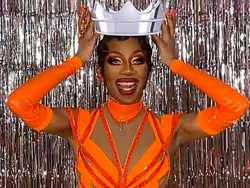 Nothing, not even COVID-19, was going to keep RuPaul from crowning America's next drag superstar.
Each episode is a mix of docudrama and feature profile, and while the ten episodes in the series center around a disparate mix of celebrities, one theme emerges again and again: Following one's own path.
Herbert Stempel, a fall guy and whistleblower of early television whose confession to deliberately losing on a 1950s quiz show helped drive a national scandal and join his name in history to winning contestant Charles Van Doren, has died age 93.
In rewriting Hollywood history, does "Hollywood" do a disservice to the real Rock Hudson, who remained closeted throughout his career.
Will Ronan Farrow be writing "Daddy Dearest" next?
A Fox News reporter was pummeled and chased by protesters who had gathered outside the White House early Saturday as part of nationwide unrest following the death of George Floyd.