A 'Queen Mary Christmas' Will Make You a Believer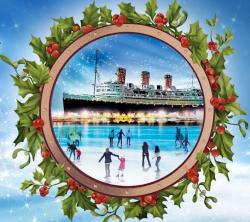 A "Queen Mary Christmas" is back. Changing it up every year, the legendary (and legendarily haunted) ship brings holiday festivities and merriment to young and old.

Among the activities are ice-skating around a 26-foot Christmas tree, a trip on the QM Express Train, a ride on a Giant Rocking Horse, climbing a polar wall, and a carousel to ride. While local singers entertain the crowds, there are burgers, ice cream, and all sorts of popcorn for purchase. Inside the ship itself the kids can go visit Santa himself, make stockings, or listen to Mrs. Claus read a story. And don't forget about the 4DX "Polar Express" movie that has the smell of hot chocolate wafting through the air and snow falling down around you. (Tickets are $29 for adults and $22 for children 4-11.)

But that's not all: you can also take a dare and experience a theatrical séance with Master Illusionist Aiden Sinclair in his new show "Ghosts of Christmas Passed." With a small audience, he will astound you with ghostly premonitions and unbelievable predictions, all while enchanting his guests with stories about the ship and his own life. (Tickets are $45-$60.)

But that's not all. There is also a VIP package that includes an actual "Paranormal Investigation." This is a digression from the "Ghosts" show, which is an admitted show of illusion. Here, standard issue ghost hunting instruments are used to attempt to communicate with spirits on the ship. And lo and behold, in the session I was in, there was quite a conversation with a German officer nicknamed "Skylark." I guarantee it will have you being a believer!

For more information about "Queen Mary Christmas" which runs through January 1st, "Ghosts of Christmas Passed," and the "Paranormal Investigation," visit the Queen Mary website.
Kevin Taft is a screenwriter/critic living in Los Angeles with an unnatural attachment to 'Star Wars' and the desire to be adopted by Steven Spielberg.
Comments on Facebook