Watch: 'Tiger King' Star Joe Exotic's Throuple Wedding Video Surfaces Online
If you still can't get enough of Netflix's zeitgeist-y docuseries "Tiger King," the wedding video for its subject Joseph Maldonado-Passage (a.k.a. Joe Exotic) may fill your void.

It's not just any wedding video, of course. The 23-minute clip finds Joe Exotic marrying his two partners, John Finlay and Travis Maldonado. "Tiger King," a seven-part series, focuses on the rival between Joe Exotic, who owned an exotic animal park and is now serving prison time, and Carole Baskin, an animal rights advocate who runs a big-cat sanctuary. The docuseries also highlights Joe Exotic's sexuality and his relationship with the two men.

Moments from the throuple's wedding were featured in "Tiger King" but now the full length 2014 ceremony is available to watch on YouTube. The video shows the moments leading up to the ceremony and the event itself where the three men are seen wearing matching pink button-up shirts and flowers pinned to their chests. After saying "we do," the throuple exchange matching wedding rings, making all three husbands.

People magazine reports that the men were married for a few years before Finlay left the park and the relationship and Maldonado, 23, died of a self-inflicted gunshot in 2017.

Watch the video below.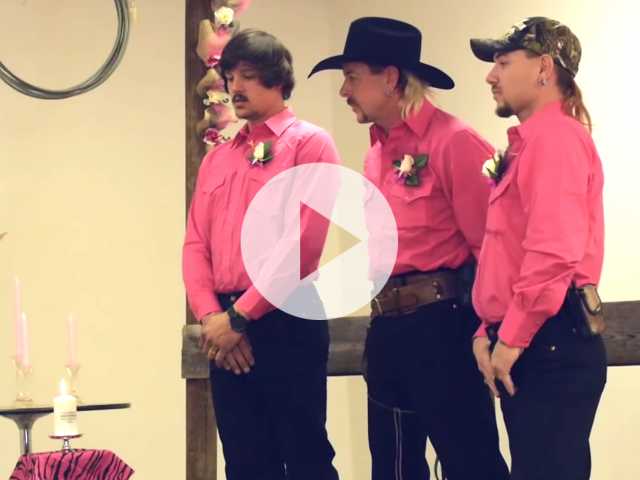 Comments on Facebook