Review: Magic of 'Coming To America' Revived For 4KHD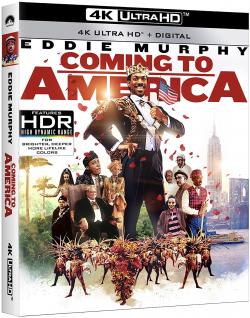 In "Coming to America," Eddie Murphy and director John Landis reunite, hoping to revive some of the magic they created in "Trading Places." What they ended up with is was a box office hit that established the tradition of casting Murphy in multiple roles, all of various ages, creeds, and colors, in the same movie.

This romantic comedy revolves around Murphy as Akeem Joffer, the pampered prince of Zamunda, a man with nothing to complain about except his impending arranged marriage. Akeem decides that the only way to find a woman who will love him for himself and not his wealth and position is to "trade places" with a poor kid from the ghettos of New York, more or less. He travels to Queens with his right-hand man Semmi (Arsenio Hall, who also plays multiple roles), to the inner city and a run-down tenement apartment, disguising himself as a poor goatherd, having come to the U.S. as a foreign exchange student.

He finds the perfect girl, Lisa (Shari Headley), and sets out to win her heart in spite of the fact that she already has a boyfriend (Eriq La Salle). When the prince and his friend go to work in Lisa's father's fast food restaurant, Akeem starts to go places with the girl of his dreams. Unsurprisingly, things explode for Akeem when his scheme to find true love is exposed as a pack of lies.

With plenty of callbacks to "Trading Places," including an appearance by that film's villainous Duke brothers (Don Ameche and Ralph Bellamy), "Coming to America" further assured Murphy's place as a big star. And now this cult classic is looking forward to a sequel. "Coming 2 America" was set to be released on December 18, but due to the pandemic it has been postponed, now set to be released on video March 5.

This 4K Blu-ray offers a host of vintage special features including a photo gallery, the theatrical trailer, several featurettes and a vintage sit-down with the stars. Relive it now, before the debut of "Coming 2 America," the highly anticipated sequel.

Remember those VHS cassettes you wore out in the '80s, back when you marveled over the fact that you could rewind scenes and watch them over and over? Now they're remastered in outstanding color and sound that makes streaming video pale and fall flat.

Eddie Murphy's freshest and most critically acclaimed works, the movies that shot him to stardom, are available in 4K Ultra HD, a must for any real fan. In addition to "Coming to America," the movies "Beverly Hills Cop," "Trading Places" and "The Golden Child" are all newly remastered and anxiously awaiting your big screen. If you can't go out to the movies, watch movies at their best quality in your home.


"Coming to America" comes to your home, in glorious 4K Ultra HD, December 1.
Comments on Facebook