Review: 'Sound Of Metal' Makes a Righteous Noise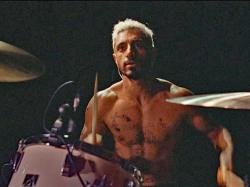 Darius Marder ("Loot") and Abraham Marder present "Sound of Metal" on November 20, 2020. Riz Ahmed plays Ruben, an American punk-metal drummer losing his hearing thanks to playing gigs without ear protection. His girlfriend, tour manager, composer, and bandmate is Lou (Olivia Cooke). Ruben checks into a sober house for the deaf community run by Joe (Paul Rachi). There, he must come to terms with his new life: He will either accept his new reality, or explore the vastness of denial with the obsession of an addict. "Sound of Metal" casting also includes Lauren Ridloff, Shaheem Sanchez, Chelsea Lee, Jeremy Stone and Mathieu Amalric.

Riz Ahmed is sweet as pumpkin pie served with a razor crust as hardcore metal drummer Ruben. He balances brutal honesty with sincere compassion: He's equally as believable as a professional musician facing his addiction, and as a tenderhearted mentor in the deaf community.

The movie is forthright with its portrayal of the deaf community's independence. The deaf community doesn't think of itself as disabled. This is in direct opposition to the hearing community which does. Deaf persons approach life in ways that mean they don't need to hear. Their culture, society, language(s), and use of advanced technology means they don't need to hear.

"Sound of Metal" emphasizes to the viewer that deaf people are people. This cultural truth of the deaf community is fed to the viewer over and over again for his benefit. It culminates in a scene between Joe (the charismatic Paul Raci) and Ruben. He says, clearly without the possibility of negation, "deafness isn't something to fix. We are not broken." It's a mission statement. If the viewer learns nothing else from "Sound of Metal," it should be this.

"Sound of Metal" works around conflicts of ablism. Actors who are also members of the deaf community were cast in significant roles in the film. They are depicted as whole human beings. They discuss things that aren't their disability with a range of emotions. It would be mind-blowing if it weren't so simple.

Of note to the EDGE community, Chelsea Lee plays Jenn. Lee isn't given a large role, but she makes it memorable. Jenn and Ruben share a short scene in which they discuss tattoo design. Ruben is sketching a naked lady for the back of Jenn's shoulder. Jenn expresses her preferences, and they both giggle. This moment of levity is cute, and tells the viewer that Ruben has earned the community's trust.

Boston viewers may recognize Bill Thorpe in the role as "The Man." Thorpe was a Boston resident and local actor for many years.

The original metal music by composer Nicolas Becker, Harry Cantwell, and Abraham Marder is good. It's danceable although the actors in the concert scene don't dance. Its lyrics aren't great but metal isn't known for its lyrics anyway.

Ahmed did his own drumming. Cooke did her own singing. Again, it's still metal but it's pretty good.


"Sound of Metal" opens in theaters on November 20. It is available on Amazon Prime Video on December 4.
Comments on Facebook