Review: Loving Documentary 'Dirtwoman' Delivers A Revolutionary Message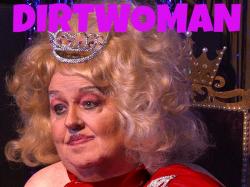 When people think of Richmond, Virginia, they may not realize that besides being the state capital of Virginia, it also has a lot of counterculture, the kind that springs up in large, diverse cities. "Dirtwoman" dives into one of the members of that scene for nearly 50 years, the legendary Dirtwoman, née Donnie Corker, who passed away back in 2017.

Donnie's story was infamous, in part because he was difficult to ignore. As a gay man of size who lived according to his own rules and performed in his drag alter ego of Dirtwoman on TV, radio, and local stages, he brought joy and humor not just to local people, but also to the internet.

While the documentary was originally started many years ago, Donnie's physical decline and passing a few years ago solidified a project that may never have made it to a final feature format. Williams attempts to show Dirtwoman's impact through music, art, and recent interview footage, as well as a lot of donated footage from different eras. By giving us the many facets of Corker as an individual through so many people's works, eyes, and voices Williams avoids easily categorizing Dirtwoman. As Dirtwoman, Corker gave voice to a specific type of woman, a streetwalker character he created almost as an homage to his own hustling history.

Both the very positive and loving side of Corker, as well as the darker side to Corker's physical and mental struggles, are shown. As someone with learning and mental disabilities, Corker never learned how to read. As someone who was openly gay, he faced physical attacks as a youth that continued even as he became more street smart. He still managed to participate civically and cultivate lifelong friendships with local artisans, performers, journalists, and other notables in Richmond, but it was still very difficult for him to thrive, particularly as he became sicker and sicker while aging. Instead of glossing over Corker's everyday difficulties or presenting these real problems over various decades as jokes, the film allows these moments to just exist without full explanation.

Instead of ableism or tokenism, the flat delivery allows for a viewer to hopefully look at all of the facts instead of fixating on one or two of Corker's flaws or achievements. There is no doubt that the existence of Dirtwoman really helped the local queer community in Richmond; just by being this character, there was so much that Corker communicated, probably beyond what he believed he was doing, which was becoming famous. Gay people saw Dirtwoman as a public figure who wasn't embarrassed or ashamed to be who she was, and that still is a revolutionary message even in 2020.


"Dirtwoman" is available now at Ariztical Entertainment.
Noe Kamelamela is a reader who reads everything and a writer who writes
very little.
Comments on Facebook