Review: 'The Antidote' Reminds Us People Are Good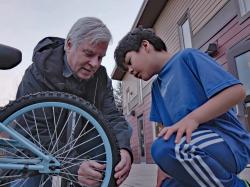 Kahane Cooperman and John Hoffman present an inoculation to the cruelty in the world, the feel-good hour and 40-minute documentary "The Antidote: Stories of Kindness, Decency and the Power of Community in America."
The filmmakers chronicle folks across America looking to be kind to, as well as impactful in, their communities. Congolese refugees resettle in Anchorage, Alaska, and the locals welcome new arrivals, who have a right to come to this country and join their families, noting that the US "used to welcome half the world's refugees."
A mandatory high school religion class in Modesto, California, teaches the kindness commonalities among various faiths. An Amarillo, Texas, community college surveys their diverse population to find the biggest barriers to classroom success, including a majority of students facing insecurity in food, housing, transportation, and other necessities. The administration starts to address these overwhelming issues by first treating all comers like human beings, worthy of time and attention, to break the cycle of poverty.
In an era with an undercurrent of economic injustice, "sometime it just became OK to step over bodies," one notes.
In Boston, doctors and nurses practice street medicine, first bathing their clients' feet, as an act of supplication as well as a way to first diagnose a host of problems, from frostbite to diabetes to mental illness. "Footcare clinic is a gateway into primary care," says one frontline worker, "because homelessness reflects the weaknesses in our system."
Foster kids live in a senior citizen community in Portland, Oregon. Each kid has an elder, some have "dozens of grandmothers," because "generations coming together makes a powerful safety net."
In Indianapolis, a community man partners with local police to open a bicycle repair shop staffed by youngsters learning the trade and serving their peers, plus adults who bike but don't drive.
A religious ethicist brings up LGBTQ issues, including suicide, to his Southern Baptist Evangelical community, and asks, "Which commandment says to hate people?"
As the current Trumpian dystopia careens towards an end date, it's comforting to be reminded that compassion and positive action still exist and might rise again from the wasteland of cruel conservatism, echoing Anne Frank's observation that "in spite of everything, I still believe that people are really good at heart."
"I simply can't build up my hopes on a foundation consisting of confusion, misery and death," the teenager added, and "The Antidote's" filmmakers confirm this sentiment.

"The Antidote" is available now on Amazon Prime video.
Karin McKie is a writer, educator and activist at KarinMcKie.com
Comments on Facebook