Review: In 'Parallel,' Suspense, Smart Sci-fi are the Best Special Effects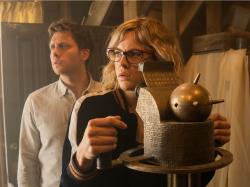 A group of young tech bros (and one woman, an artist) living in Seattle discover a hidden attic and a mirror that acts as a portal to other universes in director Isaac Ezban's paranoia-infused sci-fi thriller "Parallel."

Noel (Martin Wallström) is the sort of ambitious go-getter that can take an idea for an app, get his friends to help him perfect it, and chase a fat deal with venture capitalists. That's what he's doing with longtime friends Josh (Mark O'Brien), a coding genius, and Devin (Aml Ameen), who excels at marketing and presentations (when, that is, the high-octane Noel lets him get a word in edgewise). Noel's ex, Leena (Georgia King), an artist and graphic designer, rounds out the group.

Noel and his pals are about to close a deal for his new app that could make them rich when they discover that a rival, Seth (Chad Krowchuk), whom they had offered to make part of the team, has undercut them by making a deal of his own. The only way to salvage the situation is to meet an impossible deadline and deliver the app before Seth beat them to it. That's when, after too many drinks, they find their way to the hidden attic and its strange mirror — and also a stack of journals left behind by the house's former occupant, a woman who used the mirror for her own purposes and slowly lost her mind in the process.

Not that anyone but Devin spares a glance at the journals. Realizing that time passes at a different rate in the universes on the other side of the mirror, Noel hits on the idea of setting up shop in a parallel universe attic, while alternate versions of himself and the others obliviously go about their business in the rooms below. But access to other realities — similar to, but not quite the same, as our own — has other benefits, too, including artwork no one on this side of the mirror has ever seen before (a handy shortcut to give Leena's career as a painter a jump start), plus a trove of unheard-of technological innovations that Noel greedily sets about pilfering.

The problem with a mirror — or a mirror universe, for that matter — is what you might see if you stare into it too long. Josh, a horndog with an unfortunately awkward manner around women, is the first to run into significant trouble as he pursues an alternate version of a woman not available to him in his own reality, but the others come face to face with their own shortcomings as well. For Devin, it's a tragic event from his past that he inadvertently helped cause; for Leena, it's a growing sense of inauthenticity; and as for Noel... well, Noel disappears into a moral house of mirrors in which right and wrong start to lose all meaning.

Screenwriter Scott Blaszak combines a clutch of genre tropes — time travel, parallel realities, futuristic technology — with deft characterizations to create a fun, fast-moving, and increasingly suspenseful "best friends turn into scorpions in a bucket" flick. In the tradition of smart sci-fi films like "Coherence" and "The Vast of Night," where the concepts are high and budgets are modest but skill and creativity abound, "Parallel" slips into a kind of alternate reality of its own, revisiting cinematic virtues that turn imagination, effective writing, and ensemble chemistry into special effects all their own.







"Parallel" premieres in select theaters and on demand Dec. 11.
Kilian Melloy serves as EDGE Media Network's Assistant Arts Editor. He also reviews theater for WBUR. His professional memberships include the National Lesbian & Gay Journalists Association, the Boston Online Film Critics Association, The Gay and Lesbian Entertainment Critics Association, and the Boston Theater Critics Association's Elliot Norton Awards Committee.
Comments on Facebook