"I have dogs and cats, so maybe that sets me up for bisexuality very well," jokes Margaret Cho. Our attitudes about where the "B" fits in LGBTQ is a hot topic in the queer community and beyond.
The gaming industry is the latest big business to face a diversity reckoning, with independent creators and publishers advocating for LGBTQ inclusion.
After more than a century, the glass ceiling may finally be shattering for Black queer women in the entertainment industry.
In the wake of recent mass shootings and the five-year anniversary of the Pulse massacre, one might think that Americans — especially LGBTQ Americans — have had enough. They have. But many in the queer community are beyond protests and petitions.
It's been 40 years since the AIDS crisis was first documented. Sweeping in scope and driven by those advocating for and living with HIV, EDGE offers a snapshot of where we've been and what the future holds for the fight against AIDS.
Not without its challenges, queer women in pro sports are raising the bar for representation, social justice and media attention. But what forces are behind this new narrative and long overdue power shift?
Casting LGBTQ actors in queer roles only scratches the surface of the complexities behind the Hollywood business model, where talent is a commodity and the benchmark for success is a delicate balance of earnings and artistry.
A recent report reveals more than half of last year's top-selling books targeted kids or young adults. For LGBTQ authors and readers, the publishing industry exhibits slow progress in diversifying queer narratives.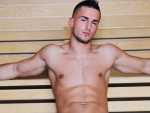 COVID-19 has upended life as we know it, and bathhouses facilitate two social needs that have been thrown into especially sharp relief: Sex and public health consciousness. Will they emerge post-pandemic?
Soon-to-open Camp Boomerang RV Park and Campground announced it would open this spring and cater exclusively to gay men, setting off a controversy about transgender guests that's reverberating through the queer camping community.