Catch the latest reports on your favorite (or not-so-favorite) celebrities at PopUps.
Check out EDGE's top 5 most-read PopUps from 2021.
Pop stars Shawn Mendes and Camila Cabello took to Instagram Wednesday evening to announce that, after two years of dating, they are calling it quits.
For his 32nd birthday, singer Joe Jonas is giving his fans a very revealing gift: his birthday suit!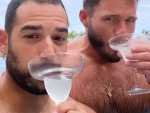 "Bachelor" star Colton Underwood is vacationing in Punta Mita, Mexico, with a group of friends, including out actor and "Hacks" star Johnny Sibilly.
Justin Bieber shaved his head over the weekend, weeks after coming under fire for wearing a controversial hairstyle that sparked accusations of cultural appropriation.
Shawn Mendes is turning heads on Instagram again, this time thanks to a sexy snap of his hairy chest.
A social media backlash over Justin Bieber's new hairstyle is in full throttle, with many accusing the "Sorry" singer of cultural appropriation, marking the second time he's faced a hair related outcry.
K-pop star and king of the thirst trap Wonho is turning heads again with his latest eye-grabbing pic on Twitter.
Lady Gaga is thanking fans who are trying to get the pop star to release a so-called sequel to her third album "Artpop," which came out in 2013, after it re-entered the top charts on iTunes this week.
Justin Bieber might get a new tattoo of a small peach to celebrate his new single but the singer revealed which body part he won't ink up.