Personal trainer Sam Asghari is best-known as Britney's boyfriend. But in an Instagram video he shows how he stays in such amazing shape.
The PGA just concluded its latest tournament, but where were the LGBTQ athletes? Here's a look at some of the sports' greats throughout history.
Fitness expert Maddie Lymburner offers an easy-to-follow workout for a part of the body that we usually ignore during workout sessions. Don't forget your back!
While the country still needs much work to heal itself, Beverly Grant wants more people of color to try yoga to help their health.
Social distancing rules can make exercising a challenge for a blind runner who needs a volunteer tethered as a guide. But Thomas Panek has no problem because his running guide, Blaze, is a Labrador retriever.
CrossFit coach and personal trainer JR Jaquay authors a piece for Outsports on his experience and approach to acceptance in the fitness world.
Trainer Luis Young offers tips and techniques for an at-home workout targeting your abs and core.
"I could feel my confidence coming back and my insecurity disappearing," says Lorene Thomas. "That gym is the best thing that ever happened to me."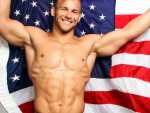 Eight of America's leading fitness photographers have joined forces on "Flex Your Vote," a new campaign that aims to encourage the LGBTQ community and its allies to the polls this November.
Paul Olima is one of the fastest-growing fitness personalities in the UK. Check out his principles of time-under-tension, eccentric loading and continuous tension for a muscle-building at-home workout.