Top Story
"When we're voting, it's easy to think it's just for a candidate or party we align with, but it's so much more than that," says Drag Out the Vote'...
1 thru 10 of 55243 Stories
The New Yorker has suspended reporter Jeffrey Toobin for exposing himself in Zoom call.
Dalton Harris, winner of the U.K.'s "The X Factor" Season 15 in 2008, appears to have come out as pansexual over the weekend.
YouTuber Noah Lindquist takes on mask denial in a funny take-off of "Be My Guest" from Disney's "Beauty and the Beast"
2020 is the deadliest year on record for the transgender community.
South Australia has moved forward with a bill to revoke "gay panic" as a defense in court for perpetrators of anti-LGBTQ crimes.
President Trump sought to buck up his campaign staffers two weeks from Election Day, dismissing the cautionary coronavirus advice of his scientific experts as well as polling showing him trailing Democratic rival Joe Biden across key battleground states.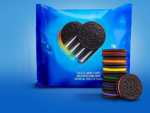 The American Family Association-affiliated One Million Moms has taken aim at Oreo cookies for producing a rainbow-themed edition of their popular creme-filled cookies and partnering with PFLAG.
Austin Quinn-Davidson will serve as acting mayor of Anchorage starting next Friday after Mayor Ethan Berkowitz's resignation.
Melania Trump lashed out Friday at "self-serving adults" for focusing on her falling out with a friend and adviser, writing that the attention paid to "salacious claims" about the broken relationship comes at the expense of her work on behalf of children.
President Donald Trump and Democratic rival Joe Biden went on offense over the weekend as both campaigned in states they are trying to flip during the Nov. 3 election, just over two weeks away.
1 thru 10 of 55243 Stories