1 thru 10 of 29700 Stories
A Detroit couple who own the bakery Good Cakes and Bakes have spoken up about a recent homophobic cake order received online through their website.
President Donald Trump frankly acknowledged that he's starving the U.S. Postal Service of money to make it harder to process an expected surge of mail-in ballots, which he worries could cost him reelection.
Last month, the Trump administration announced a reversal of a Department of Health and Human Services administrative rule, erasing protections for transgender patients.
President Trump said he opposes additional funding for the U.S. Postal Service, acknowledging that his position would starve the agency of money Democrats say it needs to process an anticipated surge in mail-in ballots during the coronavirus pandemic.
An Arkansas gay man is accusing a local casino of discrimination because he was wearing a murse.
Summer 2020 is shaping up to be a road-trip kind of season. To help you refresh and decompress the gay way, we've compiled this tip sheet for your very own LGBTQ break from five U.S. cities. Gas up the car, pack up your travel cooler, and let's roll!
For the first time, Airbnb is taking legal action against a guest for violating its ban on unauthorized parties.
While we can't control many things right now, we can control how we handle our stress. Here are five tips on how to cope with anxiety and stress during the pandemic.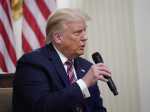 The Trump Administration wants to change the definition of a showerhead to let more water flow, addressing a pet peeve of the president who complains he isn't getting wet enough.
The long-running ABC hidden camera series "What Would You Do?" posed a compelling question with its latest episode, which staged an instance of anti-gay bullying at a sports store.
1 thru 10 of 29700 Stories