Gay Cleveland: The Latest
A diner at a high-end Manhattan restaurant was shot in the leg during a stickup in the eatery's outdoor seating area, police said.
Time Magazine published its annual 100 Most Influential People list this week with just a few LGBTQ names on it. Here are some suggestions of who could have been on it.
There is proof that Rihanna asked Tom Daley to take a photo of Troye Sivan peeing in his dress, but no one knows why.
The follow up to Frank Ocean's critically lauded hit album "Blonde" is reportedly being shopped to record labels.
Colorado's Jared Polis, who became the first openly gay man in the United States to be elected governor in 2018, has married his longtime partner and first gentleman Marlon Reis, a writer and animal welfare advocate.
Mayim Bialik and Ken Jennings will split "Jeopardy!" hosting duties for the remainder of 2021.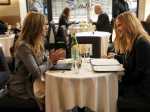 Season two of " The Morning Show, " starring Jennifer Aniston and Reese Witherspoon, had filmed just 13 days when the COVID-19 pandemic shut down production in March 2020.
Could the Ryan Murphy-created classic "Glee" be headed for a reboot?
A Madonna superfan has created a gallery wall inspired by the Queen of Pop's hit "Vogue". Have a watch!
Actor and hip-hop artist Kid Cudi sent a shout-out of support to out fellow artist Lil Nas X, declaring his support in an effort to dispel a "homophobic cloud over hip-hop."
CNBC anchor Shepard Smith gave a few pointers for how LGTBQ+ professionals can deal with being "tokenized" at work. Rule #1: Use calm, concise, face to face communication.
At the Met Gala on Monday, out actor Lee Pace put a ring on it and the internet is wild with speculation that he has married Matthew Foley, whom he has been dating since 2017.
Carnival Corp., once a $21 billion company, saw revenue plunge to zero overnight last year when the pandemic shut down the cruise industry. It's CEO Arnold Donald's job to navigate uncharted waters for the cruise giant, which operates nine brands.
An Australian entomologist has given the name Opaluma rupaul to a newly discovered species of soldier fly, a metallic-looking, rainbow insect he says earned the name for "serving fierce looks."
When the nonessentials threaten to put your finances in jeopardy, it's important to keep your financial goals on track. Here are five strategies to help you navigate impulse spending.
With all the developments in the auto industry you may think your next car will be electric. The experts at Edmunds examin some of the most prevalent EV myths.
Cabbage Patch Kids are up for a spot in the National Toy Hall of Fame along with Battleship, Risk, The Settlers of Catan, Mahjong and billiards, as well as the piñata, American Girl Dolls, Masters of the Universe and Fisher-Price Corn Popper.
Influential government advisers will debate Friday if there's enough proof that a booster dose of Pfizer's COVID-19 vaccine is safe and effective — the first step toward deciding which Americans need one and when.
Hundreds of holiday-makers flocked to Malaysia's northern resort island of Langkawi as it reopened Thursday to fully vaccinated travelers.
This year's celebration of Carnaval des Couleurs will be a multicultural celebration filled with fun and activities.