Florida Woman Ordered by HOA to Remove Pride Flag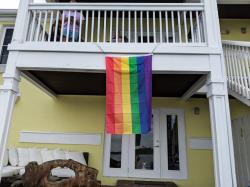 Residents of the Coquina Key Condominiums, where Robin Chipman lives in St. Petersburg, Florida, are allowed to put up flags in support of their favorite sports teams... but, apparently, not in support of their LGBTQ friends, reports Yahoo News.

Chipman bought the flag thinking she would display it for St. Petersburg Pride, Yahoo News said. A close friend and his same-gender partner had rented the unit above hers for the celebration, Yahoo News reported, making Chipman's display of the flag a doubly supportive one.

Neighbors complained about the flag, however, and the HOA — the Waterside at Coquina Key North Condo Association — ordered Chipman to take the flag down, calling its display "improper" and threatening her with fines if she did not comply, according to Yahoo News.

"People are allowed to have flags on game day to show their support for their team," Chipman told the media, adding that her display was similarly "going along with the guidelines."

Chipman was required to take the flag down before July 23, going her the chance to display the Pride colors for part of the weekend, but all the same, she intends to make a case for the freedom to fly the Pride flag without restriction next year, reported local CBS affiliate Channel 12.

"I have friends and neighbors that are in the [LGBTQ] community," Chipman told Channel 12. "And I want to show my support.

"And it's only the biggest celebration in the state of Florida and most of the country," Chipman went on to add, referring to Pride. "So, no it's not a small deal."

Watch the Channel 12 news clip below.


Kilian Melloy serves as EDGE Media Network's Assistant Arts Editor. He also reviews theater for WBUR. His professional memberships include the National Lesbian & Gay Journalists Association, the Boston Online Film Critics Association, The Gay and Lesbian Entertainment Critics Association, and the Boston Theater Critics Association's Elliot Norton Awards Committee.
Comments on Facebook