Gay Cleveland: The Latest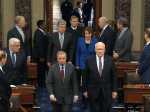 No cellphones. No talking. No escape.
A couple who had been together for nearly 65 years have died on the same day at a St. Louis-area nursing home.
A game in English soccer's second tier between Millwall and Reading was briefly stopped due to apparent homophobic chants on Saturday.
A transgender convict has lost a federal appeal to have her name changed in court records — and to have the appeals court refer to her with feminine pronouns.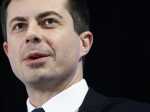 Democratic presidential candidate Pete Buttigieg said Saturday the Oval Office benefits from the perspective of a wartime veteran, a niche he occupies exclusively among top-tier candidates in his party's race for the 2020 nomination.
If the Producers Guild Awards are a true predictor of the Oscars' best film category, then the World War I film "1917" is poised to come away with the top honor in a few weeks.
Hank Azaria says he has no plans to continue voicing the character of Apu on "The Simpsons," according to an industry blog. But that isn't to say the Indian immigrant convenience store owner Azaria brought alive for 30 years won't live on.
Democratic presidential candidate Pete Buttigieg, who has been criticized for his slow outreach to black and other minority voters, has rearranged his schedule to make room for events in early-voting South Carolina that honor Martin Luther King Jr.
Having thrown her life open for years, it's hard to believe there isn't much the public doesn't know about Paris Hilton.
President Donald Trump's legal team issued a fiery response Saturday ahead of opening arguments in his impeachment trial, while House Democrats laid out their case in forceful fashion.
The National Archives said Saturday it made a mistake when it blurred images of anti-Trump signs used in an exhibit on women's suffrage.
Scarlett Johansson and Nicole Kidman will have two chances to win Sunday night at the 26th Screen Actors Guild Awards, while the night's top movie winner may offer a forecast of the Academy Awards.
Who hasn't felt the shame of a refrigerator purge? You're sentenced to face the forgotten leftovers, fuzzy produce and years-old salad dressing the you paid money for, and now have to throw out.
Britain's Royal College of Psychiatrists is urging that mammoth tech companies like Facebook and Twitter turn over research about possible dangers caused to young people by excessive social media use.
Many deductibles reset Jan. 1, forcing patients to pay thousands of dollars for care or prescriptions before most insurance coverage starts.
A Chinese woman sparked social media outrage in her country by posting photos of herself and a friend with a Mercedes-Benz on the grounds of Beijing's Forbidden City.
Chip and Joanna Gaines' new Magnolia cable network will debut on Oct. 4, with a dozen shows currently in production.
Three U.S. airports will screen passengers arriving from central China for a new virus that has sickened dozens, killed two and prompted worries about an international outbreak, health officials said Friday.

An Air Canada flight bound for Australia diverted to Honolulu over the weekend because of a dead passenger.
Evangelist Franklin Graham, who has condemned gays and lesbians as sinners, tried to bring his anti-LGBT beliefs to Key West. He was met with around 150 protesters who support the LGBT community and welcome them with open arms.